WHAT IS PILATES?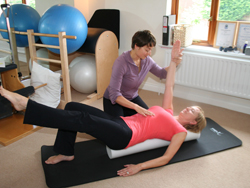 Pilates is a balanced exercise method developed by its founder, Joseph Pilates, designed to elongate, strengthen and restore the body to balance. Pilates is an exercise method, based upon an anatomical understanding of the body's muscular and skeletal systems. Classes will focus on specific areas individually whilst using exercises that integrate the whole body to re-educate and restore it to optimum muscular and skeletal function.
It can be practiced to aid rehabilitation from injury and to help avoid injury in the future, for pre- and post-natal women, and it can also be used by the more active to improve all round sports performance.
Joseph Pilates was born in Germany in 1880. He appears to have been a frail child which gave him drive and determination to overcome his ailments led him to become a competent gymnast, diver and skier.
In 1912 Pilates lived in England and during the First World War, he was interned with other German nationals. During this time he developed his technique of physical fitness further, by teaching his fellow internees. During the latter part of the War, he served as an orderly in a hospital on the Isle of Man where he worked with patients unable to walk.
Pilates emigrated to the USA in the early 1920s, opening a 'body-conditioning studio' with his wife Clara in New York in 1926.He mainly did rehabilitation work with the pilates equipment but It soon became very popular, particularly with the dance community, as it offered a chance to improve technique or recover from injury. Word spread quickly and many celebrities of the day visited his studio.
In 1932 Pilates published a booklet called 'Your Health' and followed this with another called 'Return to Life Through Contrology' in 1945. Through these writings and his students, his method was passed on after his death in 1967 at the age of 87. His method of exercise was called Contrology. It was only after his death that it became known as Pilates or the Pilates method.
TREATMENT?
You will start gradually to ensure technique and positioning is correct to enable you to feel the benefits of the pilates method.
Due to the focus and specificity of the discipline it can be a relaxing and sometimes feel like you're not doing a lot, yet can feel surprisingly worked. This can then develop into a comprehensive strengthening and stretching program that is developed specifically to your needs
As you gain more confidence and progress it can lead to be a challenging work out.
WHAT SHOULD YOU EXPECT
First a medical history is taken and we will discuss what you would like to get from the class.
The class will start gently introducing you to Pilates and determining a program that you can practice to speed your progress.
The amount of sessions needed will depend on what you want to achieve. A few weekly consecutive session will build you a program and then subsequent session can be spread further apart to check the progress. Pilates can be part of a regular fitness regime/program.
Wear something comfortable and easy to move in, no shoes are needed just socks.
www.rebeccagouldonline.co.uk